Educational video production experts
Little Orchard has become established as one of the UK's most experienced creative promotional video production companies for schools, colleges and universities over the past decade, or so.
We offer you a full end-to-end video production service at a fixed price, from storyboard, to dedicated filming and to delivery. Our experience spans universities, trusts, academies, colleges, independent & faith, secondary & primary schools.
Typical productions range from filming a range of video collateral to kick start your video channel, to creating a video prospectus for your educational establishment or just single school promotional video.
Every video is crafted with passion by our in-house team – all of whom carry enhanced DBS certificates – in beautiful UltraHD/4k footage and bespoke animated graphics.
Whether you're looking to produce a new School Promotional Video or a College Video Prospectus, Little Orchard offer a truly creative approach with the experience to advise you what is important to your students & parents to know.
Little Orchard – delivering your company's video productions – on time, on budget and on message.
Please click on a icon to view a projects details and the material we produced for our clients. After all our future performance is only going to be based on our past successes.
Our Video Production Process
Yes everything in the world has a process, even corporate video productions. And with little Orchards plan we can ensure a successful Corporate Video Production right from the start…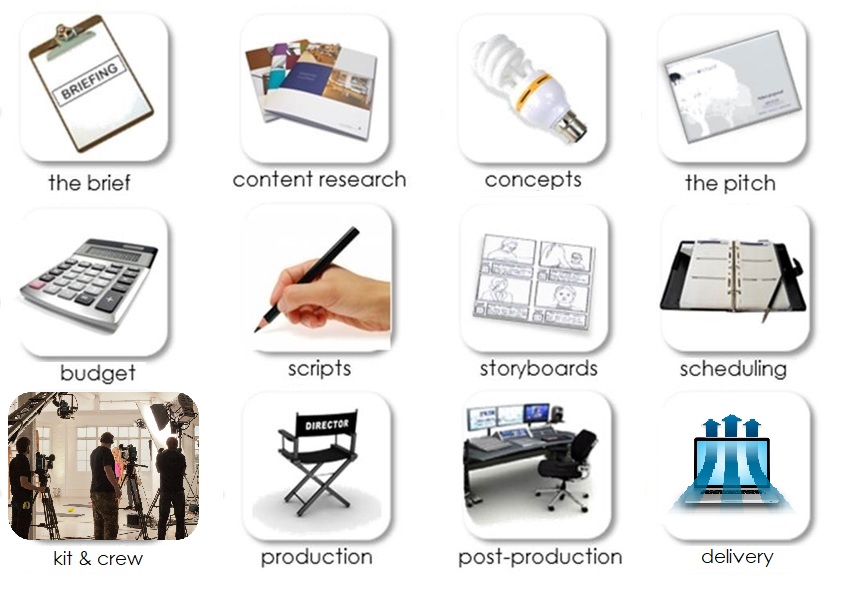 Fixed price video production
Little Orchard's experience means we're so confident in the value we can add to your project we can manage your corporate video production budget to deliver your company video productions on time, on budget and on massage every time.

Our all-inclusive packages mean your budget is fixed from the start, no nasty surprises at the end. Even if there are tweaks to the brief as the project evolves – it will only change if you add significant elements to your brief. And we'll always advise you beforehand what this additional cost will be.

The 5 factors that impact on the complexity of your corporate video production and therefore impact on your price are;
the total amount of filming time
the total time spent on pre-production
the number of days filming
the locations of your filming sites
the total amount of post-production time
the use of any special production components like animation, actors/presenters or specialist kit & crew
Click the button below to see out lines of typical projects and their budgets.