Entertain and inform your followers
Encouraging your followers to share your message! Harness the power of video and interact with your audience using memorable rich media content.

You Tube is the 2nd biggest search engine on the planet after Google. Video is the driver for engaging your audience via social media; over 8 billion videos are watched on Facebook every day, 10 billion on Snapchat.

If we're already creating a promotional video for you, it's easy to re-cut the content to produce a series of shorter videos carrying the more concise messaging required for social media.

Alternatively, you may only be looking for social media content – in which case we'll ensure your project is structured so as to maximise the effectiveness of our filming time.
Little Orchard knows the sorts of approaches that work on social media and can save your time and energy avoiding the pitfalls. And we keep up to date with the constant changes in audience behaviour too.
What we can create in a few days can take in house teams weeks to deliver, which means that by using us you are actually saving time and money – and focusing your teams on what they do best, know your audience.
Little Orchard – delivering your company's video productions – on time, on budget and on message.
Please click on a icon to view a projects details and the material we produced for our clients. After all our future performance is only going to be based on our past successes.
Our Video Production Process
Yes everything in the world has a process, even corporate video productions. And with little Orchards plan we can ensure a successful Corporate Video Production right from the start…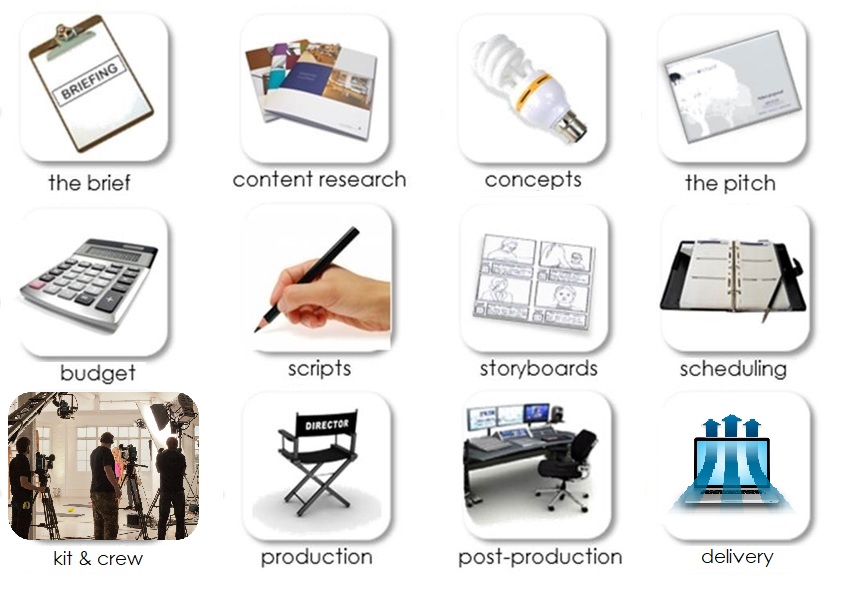 Fixed price video production
Little Orchard's experience means we're so confident in the value we can add to your project we can manage your web video production budget to deliver your social media video productions on time, on budget and on massage every time.

Our all-inclusive packages mean your budget is fixed from the start, no nasty surprises at the end. Even if there are tweaks to the brief as the project evolves – it will only change if you add significant elements to your brief. And we'll always advise you beforehand what this additional cost will be.

The 5 factors that impact on the complexity of your corporate video production and therefore impact on your price are;
the total amount of filming time
the total time spent on pre-production
the number of days filming
the locations of your filming sites
the total amount of post-production time
the use of any special production components like animation, actors/presenters or specialist kit & crew
With video for social media we normally find that clients want more content from each day of filming, and if you let us help you design the content we create we can ensure you get lots from your budget. But it does mean we shoot & edit in a different style to a glossy corporate film. For example we designed a series of short videos for a client that was shot in a day and delivered 52 short video clips.
Click the button below to see out lines of typical projects and their budgets.